Light for Levi 2021 Golf Outing Raised over $75,000
On behalf of the Light for Levi Foundation, it is with sincere gratitude that we say 'Thank You' to all of the participants and donors who contributed to make the First Annual Golf Outing a huge success. We are beyond proud to say that our first year raised over $75,000.
We would like to recognize and thank Wahlburgers of Carmel, IN for donating the space and food for the patio event we held. A big thank you to Ross Kinsey of Ross Kinsey Music for donating his time and talent to the night, too. He made the evening so fun and enjoyable with great music for 3 hours straight. 100 people attended and it was the perfect way to kick off the events.
We would also like to say a huge thank you to Eagle Creek Golf Club. General Manager Matt Parrott and his staff ran an absolutely flawless golf outing for us. They were quick to accommodate all of our requests and made the day absolutely perfect. We had 43 teams (172 golfers!) participate. We were blown away by the attendance for our first year.
Forty-five companies sponsored the event! Companies from all over the country supported the Light for Levi foundation. It has been nothing short of incredible to see how far and wide Levi's story has reached and the love of the community to help us on our mission to spread his light to others.
Because of the generous support, the auction and raffle were fantastic. From sports memorabilia to golf opportunities in our area's top clubs, in addition to artwork, jewelry, and entertainment, we are thankful to the businesses and individuals for their contributions. These gifts helped us generate a meaningful impact on our overall success of the event.
Wahlburgers was gracious enough to come to the golf outing, donate their time and delicious food and feed all of our hungry golfers! The perfect lunch for a perfect day.
A special thank you to Harbor Pictures who donated their services and captured all the great images at the golf outing.
The day did not go without the undeniable greater presence. Rainbows covered the golf course throughout the day. A little rain in the afternoon didn't ruin anyone's day and just made for more memories.
We donated $33,333.33 to Team Luke Hope for minds in honor of Luke Siegel. Team Luke Hope for Minds helps give financial assistance to children 18 and under with brain injuries. We were honored to have Tim Siegel attend the event and share his story. Tim and Luke are inspirations to all who know them and their work has helped hundreds of families through education, financial assistance and support.
The Light for Levi board is in the process of creating an application process to help even more families who have experienced similar tragedies with financial assistance to help their loved ones. Levi's light will continue to shine thanks to all of your support. We will continue to update you as we finalize the application process.
Thank you again for the tremendous support this year. We are humbled by the success of the events and we are honored to be able to help children with their own recovery journeys.
Sincerely,
Meagan and Scott Chisholm and the Light for Levi Board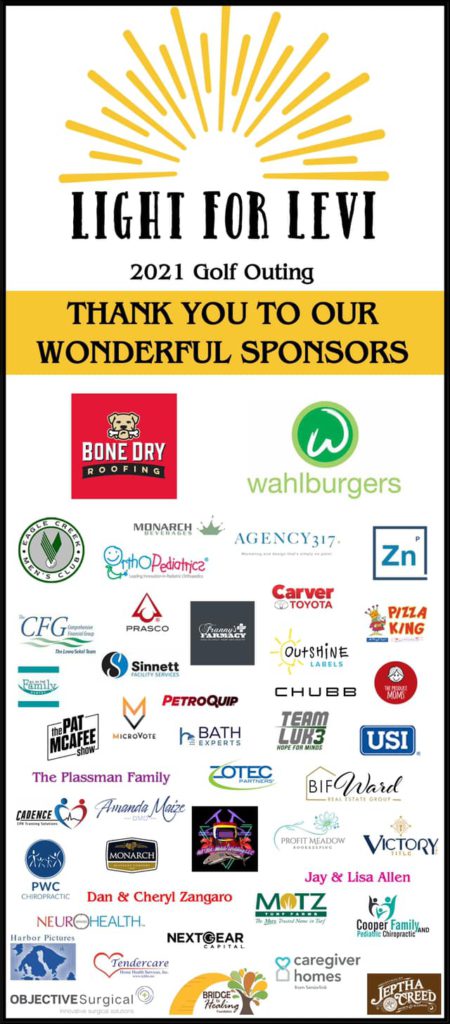 Thursday October 6th, 2022 for the Patio event and Friday, October 7th, 2022 for the Golf Outing!
If you are still need of a letter of donation for tax identification purposes or have questions regarding auction items you won please contact us here.
Have items you wish to donate for next year's auction? Please email [email protected]