https://lightforlevi.com/donate/Give for the Good | Donate to the Pikes Peak Marathon Event
MISSION: Mental Health Awareness, ADHD & Special Needs
Bear with me, please … you know I don't do short stories.
Just a little over one year has passed since I completed Pikes Peak Ascent half marathon in honor of and in benefit of Levi Chisholm; with the help of many, we were able to raise just over $11K within a few short weeks. On Sunday, September 18, I will be lining up to do Pikes Peak Marathon (up & down) and am going to be running in honor of two special boys that are dear to my heart: Levi and our son, Patrick.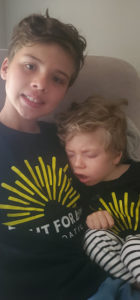 Many of you know that our Patrick has struggles with ADHD and some learning delays including dyslexia, as a result. He struggles with maintaining focus to do many day-to-day, routine tasks that most of us can move relatively rapidly though, without a thought. It isn't unusual for him to be unaware of his "peripheral" when trying to be funny—sometimes not creating a favorable judgement among peers; however, Patrick is so giving and has an absolute heart of gold. Even though he's now in the 6th grade, I still help him with morning tasks and getting out the door for the bus. And then, there is sweet Levi who has made evident progress in the right direction, showing the world what he is made of—and what having parents who are relentless in giving him the best possible quality of life and rehabilitation resources. Just imagine, if you will, how vulnerable of a position this family is in, allowing the entire world to follow their journey.
In the past 20+ months, I have been lucky to be a part of The Chisholm Family's life—Scott and Meag, their circle of supporters, caretakers, and children. In addition, I am now a part of the Foundation's Board. Light for Levi Foundation's core values and mission: to serve a beacon of light to others.
With that, I will be running PPM 2022 with a combined mission: I'm running to raise money for the foundation—of which we will pass along to causes that support mental health awareness and learning differences due to special needs. You can make a charitable donation online, directly through our foundation's page on Facebook, preferably and most easily.
I will be doing 3 drawings for Light for Levi Foundation Merchandise upon our return from Colorado as a thank you for your support. Jeremy and I fly out on Thursday, September 15th—we'll take your prayers for safe travels, as I can use all the happy spirits to get up that mountain again. I'll manage getting back down … be it running, rolling, scooching on my behind—or a combo of all the above.
I appreciate your consideration, in advance.
Mandi | 317.408.8615